I feel this post needs little explanation; the five hottest actors, the five hottest actresses, according to us. Ladies and gentleman, start your drooling....
Megan Fox
She's a fatal triumvirate: smoking hot, a huge comic-book geek and also a complete psychotic bitch whose outbursts have seen her fired from the
Transformers
franchise. Who can resist such a femme fatale?
Ryan Reynolds
Have you seen him? Because, seriously, I shouldn't have to explain why he's on this list. He can make a woman laugh in ANY movie he's in and his face has charm written all over it. He's even got a superhero body, which makes me want to read more comic books than ever.
Monica Belucci
A woman so classically elegant that she earns respect for her acting chops in everything from Hollywood blockbusters like
The Matrix
, to being brutally anally raped in nasty indie films like
Irreversible
, to wearing very little while playing prostitutes in such exploitation hokum as
Brotherhood of The Wolf
and
Shoot 'Em Up
, and all while retaining fabulous curves, bum and tits.
Hugh Jackman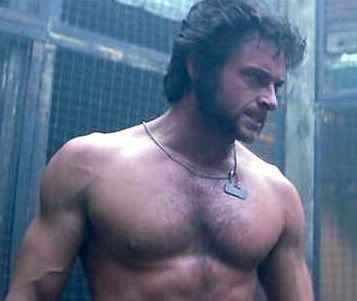 He's got the smoking hot body and dreamy eyes. Plus he speaks with an Australian accent. He's quite literally the epitome of tall, dark and handsome.
As well as being staggeringly jaw dropping, Mendes has shown a real talent for playing the charming, but bumbling, comedy love interest, like a modern-day
Doris Day
; and loves watching B-movies with her friends, apparently. Plus, just look....
Patrick Dempsey
Shying away from bulging muscles, yet still being so hot that women swoon over his every action, makes him seriously a McDreamy.
Raised in a poor, communist Ukranian family, Kurylenko was talent scouted by a modelling agency and ended up as a Bond girl, though she's far more appealing in her roles in less-lauded films such as
Hitman
and
Max Payne
. I mean, why else would you watch Max Payne?
Gerard Butler
When I first saw him acting, half of his face was covered by a mask, yet I was still won over by his sexy voice. Then when my best friends and I saw him in
300
, I swear the atmosphere in the room got a little humid. He's a winner in almost every way. Men want to be this man and women want to be with him. He's seriously hotness incarnate.
Eva Green
Lastly, we have another Bond girl, but one whose sharp wit redefined the concept. Green is most successful playing damaged, dangerous characters, yet who could resist those classic,
Bettie Paige
-style looks?
Liam Neeson
Okay, he's an older man, but he's trained Batman and Jedi. Plus, he's got a sexy beard, and have you seen those eyes? He's one sexy older man.
And to conclude... the "Shouldn't But Would" section....
Let's face it, there's a reason why she was chosen to be the paedophile bait in
Hard Candy
, she looks like she's twelve! Still, whether it be that she has indie cred, but still took a role in
X-Men 3
, or just her incredible acting talent, you must admit she is still hot.
Jay Baruchel
He's the type of nerd that every girl likes. If you've seen
Fanboys
, you know what I mean. He's got "hot nerd" written all over him, with his completely non-buff body, and even his puberty-esque voice.